Palanrandusk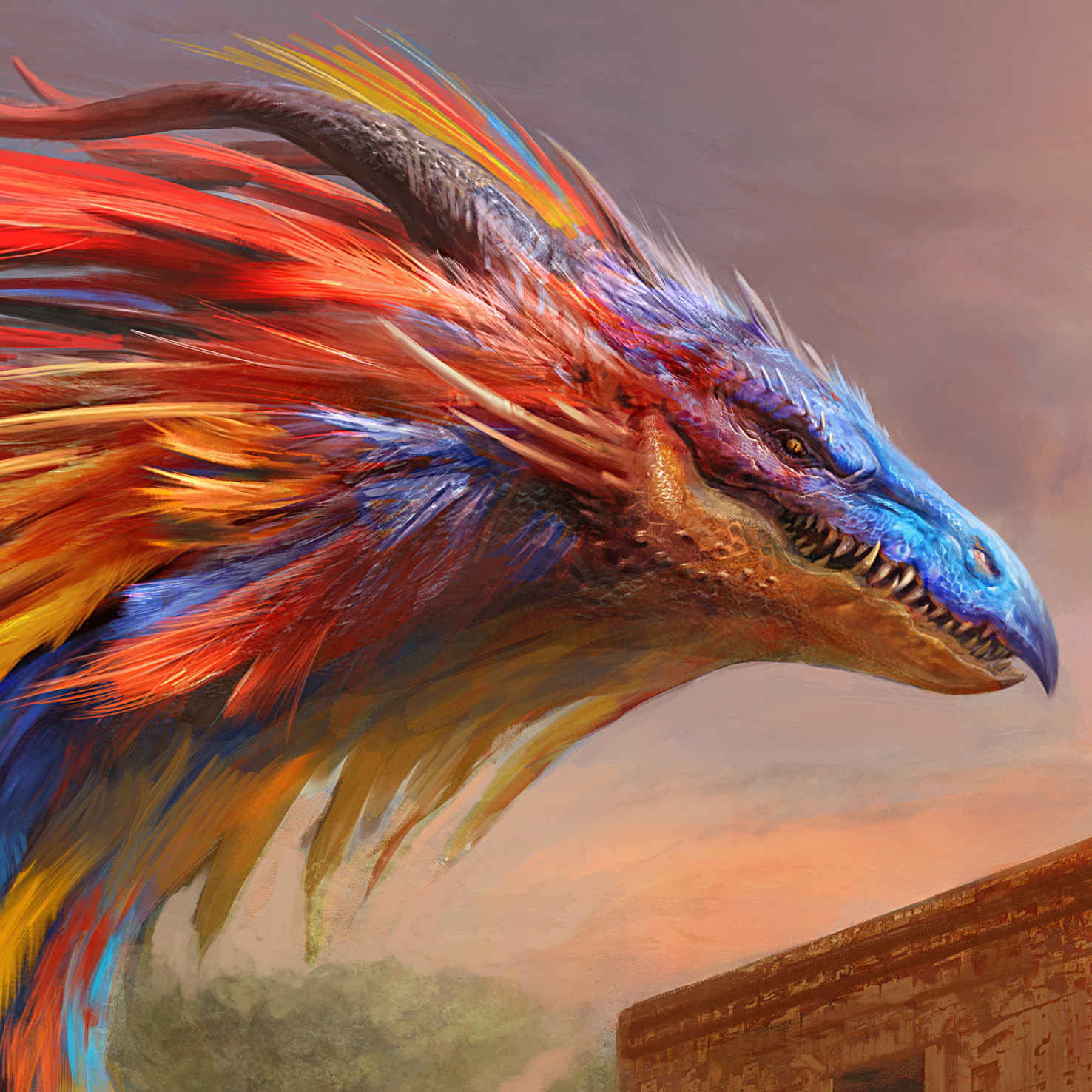 SPECIES
► Feathered Serpent​
AGE
► Ancient​
GENDER
► Male​
HEIGHT
► 14"3' (4.38m)​
WEIGHT
► 175,000 Ibs (80,000kg)​
EYE COLOR
► Amber​
SCALE COLOR
► Turquoise​
HOMELAND
► Lantherni Wilds​
JOB OR RANK
► Sanctuary Wyrm​
Biography


"Hope is fragile, do not let grief consume you when it is broken or turned against you."

It remains to be seen if Palanrandusk is the last of his particular species, a feathered serpent he resides within the Lantherni Wilds where hidden in a thick mist the serpent watches over the only legacy he has ever known. The nondescript overgrown valley is known to his children as Sanctuary. Why the serpent has secluded himself there for so long isn't truly known to anybody except him as the final known resting place of his species who disappeared not long after the first Myst Surge.

It was here he had the fortune of meeting another of his kind before Valaxor invaded their lands and put a swift end to their fragile hope. Not wishing the same fate upon others he opened his territory to those seeking refuge from the growing trade of dragon-slaying using his knowledge of warding to enchant his lands hindering or delaying those that foolish enough to seek fame and glory. His most recent stewardship was something a little more unique, however, while out on patrol around the prayer mountains where Valaxor had been entombed he discovered an abandoned clutch and after failing to find any sign of their parents took them under his wing.

Post-Surge II

"This no longer our world, what right do we have to dictate the unwritten histories?"

Palanrandusk as before has survived this Myst surge relatively unscathed, whether by luck or through his understanding of the Myst he has not succumbed to the Myst induced rage. However, his wards are broken and the Sanctuary breached leaving him vulnerable putting Palanrandusk on the defensive against his rival.

Notable Characteristics


Protective - Palanrandusk is protective of those that come to him seeking it, this at times has been taken advantage of.
Hoarder of Knowledge - Palanrandusk is a hoarder of knowledge particular around the subjects of history, culture, and civilisation. He believes in passing knowledge onto the next generation in hopes of repeating the same mistakes.

Mentor - There is nothing he enjoys more than sharing his experiences and knowledge with a younger generation while openly encouraging them to form their own opinions. He will sometimes debate on these opinions drawing attention to flaws with the intention of encouraging self-reflection.
Skills and Abilities
Barrier and Warding Magic

Dragon Traits - Palanrandusk has the usual dragon traits except as noted below:
No Breath Weapon - Palanrandusk doesn't have access to a breath weapon of any kind.
Flight - Despite being a serpent he is capable of flight.
Venom Sac - Palanrandusk can replicate any naturally occurring poison of flora or fauna he has eaten in the last 24 hours. Additionally, he may instead elect to produce the necessary enzymes or antibodies to counteract the same poison and deliver it through a bite.
Poison Immunity - Palanrandusk is immune to any natural poison, including ethanol (he wins every drinking contest he has never partaken in)