Messages

167
Reactions

65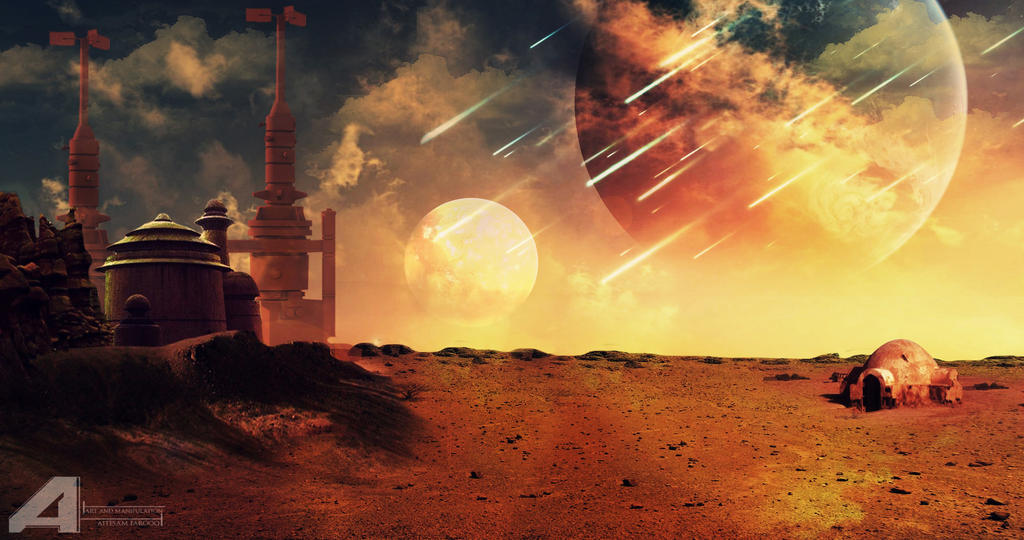 TATOOINE
Approx six months after Order 66
Time: Unknown
Alexis Solis ; Taz
W
here was she? It was dark. And dry. And yep.....something was broken. Clara Cole opened her eyes and received a face full of dust that just so happened to pick up at the same time. She coughed and spewed it up trying to get it out of her lungs. As she began to sit up she felt something painfully stabbing her in the side. With a groan she reached under herself and found her master's lightsaber which she'd been lying on. Vash!

Wiping her eyes clear of the sand she looked around frantically. Where was he? Nowhere in sight. Where....was she? Clara looked up and realized she was in some sort of...canyon? But wait. Hadn't she just been inside a cave? How was she outside? Also, there wasn't a spare rock around. Well to be fair, the whole place was made of rock and dirt and sand. But there weren't like huge massive chunks from when the floor gave in.

A growl behind her made the redhead jump. She turned suddenly and saw a large beast with sharp looking claws waiting to pounce on her. A Nexu, she believed it to be called. The striped tiger had four eyes that she could see and enough rows to make her know she wouldn't last in a fight against it. That is, if she weren't a Force user. And if she didn't have her master's saber in her hand.

Jumping to her feet she gripped the blade tightly in both hands to stop her arms from shaking and activated the bright red beam. The creature took it as a sign of aggression and launched itself at her. With swift and precise movements the girl sidestepped and removed the dangerous weapons from the monster so it couldn't pose any other threat. It landed awkwardly and rolled over itself while it howled in pain. Clara quickly put it out of its misery by slashing at its gut through the underbelly.

Turning about again the redhead would check the surrounding area. No other sign of its pack. But other creatures would soon smell blood. And she needed to find her master. Drawing her concise attention to the pelt of the beast she would skin it with the lightsaber and make herself a decent cloak to cover herself from the sandy winds and then begin climbing out of the valley. There had to be some sign of her master somewhere.
Last edited: